Hi ,
As usual, I am constantly adding to the website. Here are a few of the latest offerings.
Click on the links if you want to be taken to the page(s) mentioned. 
The main headings like NEWS will take you to ALL the news articles.  FORUMS - MOVIE REVIEWS will take you to all the movie reviews.
(You must be logged in to view the forums.)
Sex, Gender & Orientation Definitions - revised with lots more additions - Know what a demisexual is? How about frotteurism? Harry Benjamin's Syndrome? Neutrois, Outercourse, Polyandry and Polygyny??? 
Disobedience (Trailer) - in theatres April 27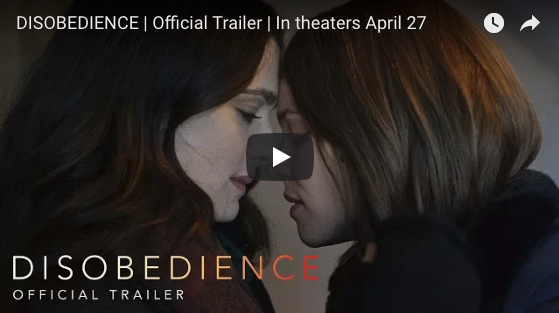 This movie looks really good, especially for those interested in Judaism!  Watch the trailer!
Touchdown Hero - Charlie has her entire life planned out. She is living out her dream of playing football on an all women's football team while attending a four year college to become a school teacher. With all of her time being split in several directions between schoolwork, practice, homework, and football games, she never thought she would meet a woman where and when she least expected it. 
MOVIES WITH GLBTIQ THEMES - broken into categories such as 
IF YOU'RE LOOKING FOR A SWEET LOVE STORY
IF YOU'RE LOOKING FOR SOMETHING TO CRY TO
IF YOU'RE LOOKING FOR SOMETHING TO LAUGH TO
IF YOU'RE LOOKING FOR SOMETHING THAT'S TRASHY (IN THE BEST POSSIBLE WAY)
IF YOU'RE LOOKING FOR A CULT CLASSIC
IF YOU'RE LOOKING FOR AN AWARD-WINNER
IF YOU WANT SOMETHING FEEL GOOD
IF YOU'RE LOOKING FOR TRANS AND INTERSEX REPRESENTATION
and more .....
Pink's Heartwarming Message To Her Daughter (last video on the page)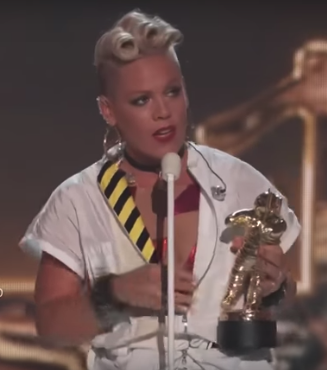 Jamie FTM Bottom Surgery Q&A (Metoidioplasty)   (last video on the page)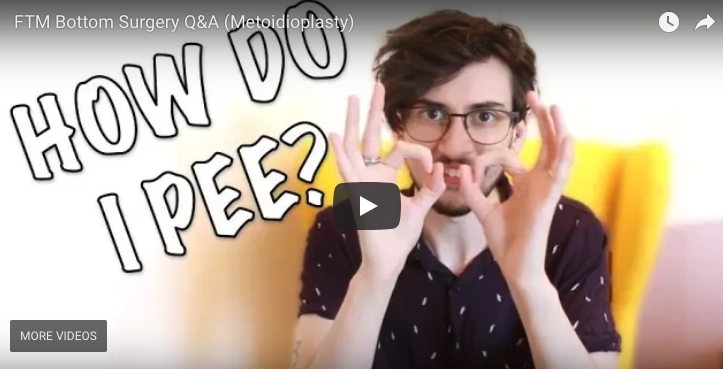 LEGAL RECOGNITION OF GENDER X - I've created a chart with important details for each country re birth certificates, passports, drivers's license, etc.  There are only 10 countries so far.
Sex, Gender & Orientation Definitions - revised with lots more additions - Know what a demisexual is? How about frotteurism? Harry Benjamin's Syndrome? Neutrois, Outercourse, Polyandry and Polygyny??? 
ACTIVIST AIMS TO GET UK TO ALLOW GENDERLESS PASSPORTS FOR RESIDENTS
JENNIFER ANISTON WILL PLAY AMERICA'S FIRST LESBIAN PRESIDENT IN NEW FILM  - I want to see this one!  ;-)
THE POPE SAYS GOD MAKES SOME PEOPLE GAY. NOW GET OVER IT.
DISNEY JUST RELEASED RAINBOW MICKEY MOUSE EARS IN TIME FOR GAY DAYS
THE DIFFERENCE BETWEEN A WELCOMING CHURCH AND AN AFFIRMING ONE IS HUGE
TRANSGENDER KIDS' BRAINS RESEMBLE THEIR GENDER IDENTITY NOT THEIR BIOLOGICAL SEX
CHURCH RESOURCES
Speaking of Faith: Gay Straight Conversation For Group Study (by Rev Caleb Crainer)
This e-book is well-researched and meant for group study.  It contains 10 sessions, each designed to last for one hour, and includes activities, discussion questions, related topics, and resources.
LISTEN TO MARY'S FAVOURITE CHRISTIAN MUSIC
When I walk the dogs in the fields and forest near my home I listen to my music and I praise God.  I am able to revel in His creation as my music lifts me to a whole other plane.
I'm blessed to have a very large collection of music and I wanted to share some of it with you, so put on your headphones and crank up the volume.  Sit for a while and just worship, or turn it down and browse the pages on the website as this music permeates your soul in the background.
Start the music by clicking the arrow in the circle for Praise and Worship music, Meditation and Prayer or Gospel, and then open a new browser window.  This will allow you to keep listening to the music in one window, but you can browse the website in the new window.
You don't have to start at the top.  You can scroll down and start with any song.  Enjoy and be blessed!
There is a link in the left navigation bar to take you to this music whenever you visit the site.
On the MAIN site is looks like this.  

On the RESOURCES site it looks like this.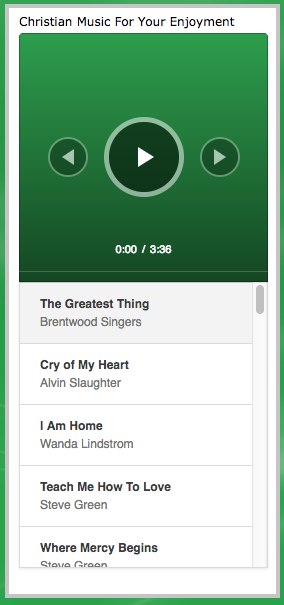 Scott Williamson Catches a Glimpse of Heaven - posted 02/01/2008 in "Out & About Newspaper" 

Scott's journey in reconciling his faith and sexuality began while he was a student at David Lipscomb University. Scott loved his college years. While Lipscomb wasn't exactly an affirming college for GLBT students, he loved the fact that he was taught to look at the Bible critically.
According to Scott, "They want you to explore your faith, to question it, so that it no longer would be your family's faith, but your own. I loved it!" 

So Scott began searching for a deeper faith. He met with professors, he asked questions, and he immersed himself in study. Oftentimes that meant he looked to the original Greek and Hebrew words of Scripture and most importantly, their context. He soon realized that not only could he apply this research method to verses about Christ and salvation, but he could also apply them to the verses of Scripture that been used to condemn him and his sexuality.  Read more ....
Update:  Rev Scott now has a blogging page with us.  Read his current articles
What is a Progressive Christian? By Brother Lawrence Damien
In recent years there has been a rise of Conservative Evangelicalism which has to pass itself off as the legitimate and only form of true Christianity. Theirs is faith-centered in a personal relationship with Jesus, and following a conservative theological understanding of the Bible, as well as a politically conservative agenda.
Their idea is to make us a "Christian" nation as they claim our forefathers intended. However, there is another movement which stands in sharp contrast.  It is called the Progressive Christian Movement, which can serve as an antidote to the right wing Conservative Evangelical view, in particular.  It can also point us to a different view of the Bible and the teachings of Jesus and how they apply in the 21st century.  So what are Progressive Christians and where do they come from?
The Importance of Receiving Love - by Rev Bob Ellis
Loving God and loving people are related. Since before the beginning of my ministry I have understood that in loving the Lord, I must also love people; and experience has born witness to this truth. To say that it has proven to be a difficult undertaking in the past is an understatement and the future appears to be no brighter. Nevertheless, if we can learn to love God, loving people just comes natural because His love for us came first. He gives us so much love, we can't help but love those He puts in our path. If we say we love God, but hate people, we are deluding ourselves. If you're having trouble with this, check your receiver. Maybe the reason you are having trouble loving people is because you haven't truly mastered receiving God's love. Perfect your reception of His love, then transmitting it to yourself and to others will be unavoidable.
The Story Of A Crush And How I Suck At It – by modicumx
This got so long i split it into four parts. I wrote this partly to document it for myself, but i hope people can relate, regardless of the gender(s).
Whenever i get a new job, especially a temp one, or join a new group or go to a meeting (or wherever! The grocery store?), i tend to get a crush on some girl. Even after knowing this is likely to happen and telling myself or praying "No it's not gonna happen this time!" it still seems to happen. Sometimes it can take awhile, but eventually it does, maybe because i get bored with the job and/or need something intense to distract me. Or like many addictive folks i am just more comfortable in the little den of my fears, so i re-create them.  ?  Love does not equal fear any more!
What Is Ascension Thursday/Sunday? - by Brotherlawrence
Today is forty days since we celebrated Easter and the glorious resurrection of our Lord Jesus from the grave. Now He is preparing to return back to the father and no longer be visible to the disciples and others whom He has just spent the last forty days with teaching and instructing them. The disciples fail to grasp the real significance of what is about to transpire. Their minds are focused on Jesus restoring the kingdom back to Israel and getting rid of the hated Romans. However Jesus has something altogether different in mind. As He is standing there spending the last few moments with his disciples His thoughts are all together in a different direction from those of the disciples looking forward to a future event that He wants His disciples to wait for. So why is this day important? Why does Ascension matter and what does it mean for us today in the 21st century?
CHAT
Apparently this was an issue in chat one night so I created a new FAQ in response.  It is #13 (click on the link above) if you want to read about it.
Well that's it for this newsletter.  I hope you find something of interest.
Thank you again to all who support us, whether financially, in prayer, by being present in the chat rooms, contributing to the list serve, forums and blogs, looking after our Facebook pages, and all the other things that most of you don't notice, but I do, and I appreciate each and every one of you.
God bless,
Mary