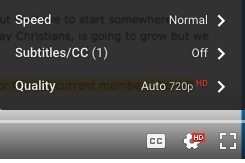 Note:  I am always improving on the website so these tutorials may not be exactly as you see the site now, however they will give you a good idea of the website.  I will try to update them within the next few days.
These tutorials have been recorded in high definition but your settings may be set to something less than HD.  To see them in the best resolution, click on the gear in the bottom right corner of the video and make sure your quality setting is 720.  
You will need to click to start the first video and then when you hover over the bottom the gear will show up.
I'll be creating more tutorials as time goes on.
Introduction To CG Website
Overview of the Main CG Website
Christian Gays - Edit Profile
CG "Friends" List Serve