If you have questions that are not answered here write to [email][/email]
How To
01. How Do I Add Christian Gays To My White List / Safe Senders?
We ask you to "white list" or add to your "safe senders" the following email addresses so that our mail will not end up bouncing or in your spam folder.
NOTE: If your email bounces it will be removed from the system to avoid getting us blacklisted.
mary@christiangays.com is for newsletters, notifications from forums, contacts from other members.
friends@christiangays.com is for our list serve.
Each Service Provider has a different way of doing this.
AOL
1. Add mary@christiangays.com and friends@christiangays.com to your Address Book or Custom Sender List.
2. Click the Spam Controls link on the lower right side of your inbox screen.
3. When the Mail & Spam Controls box appears, click the Custom Sender list link.
4. Choose the Allow email from mary@christiangays.com option.
5. Click Add.
6. Choose the Allow email from friends@christiangays.com option.
7. Click Add.
8. Click Save.
AOL Web Mail
If you are using AOL web mail, simply reply to an email from mary@christiangays.com and friends@christiangays.com and they will automatically add thus as a safe sender.
GMail
1. Add us to your contacts by clicking the GMail icon in the top left corner to reveal Contacts
 
 
 
2. Click on Contacts to reveal a red icon in the bottom right corner
 
 
 
3. Click the red icon and enter the name Christian Gays and click the Create button.
 
 
 
 
4. Edit the Contact Information by adding mary@christiangays.com and friends@christiangays.com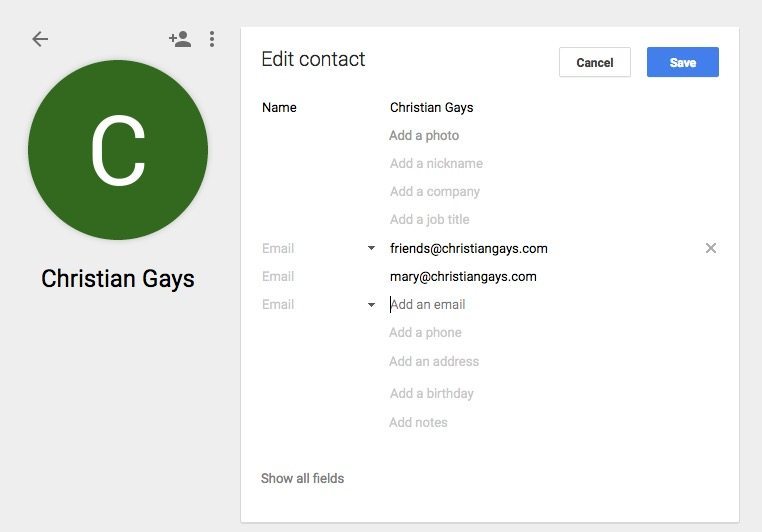 Now that you have added us to your contacts please do the following to White List us.
1. Click Show search options downward-pointing triangle in GMail's main search field. 
2. Under From type christiangays.com
3. Follow the Create filter with this search link at the bottom of the search page.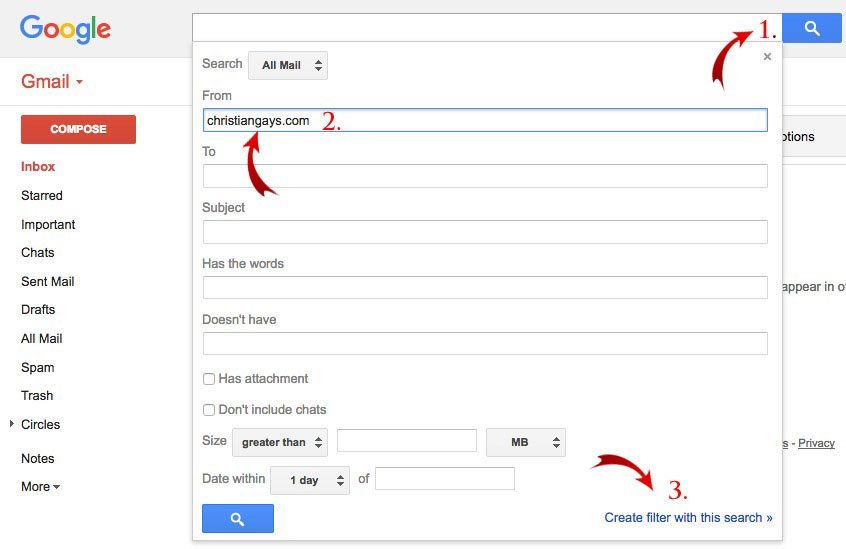 4. Make sure Never send it to Spam is checked.
5. Click Create filter.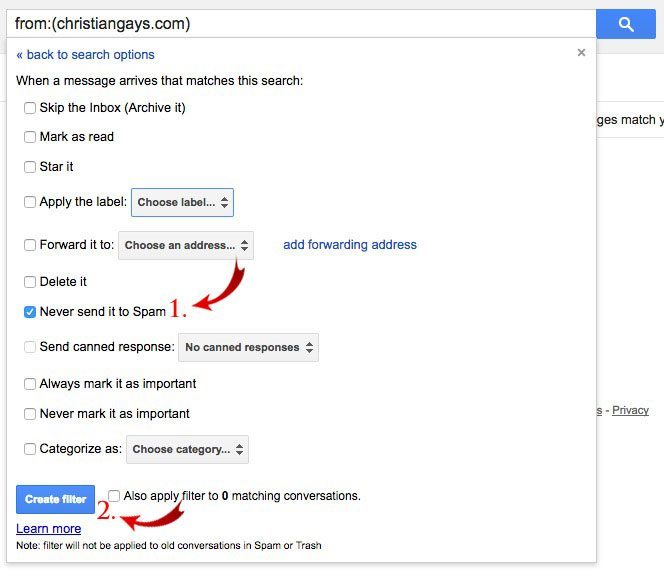 Hotmail / Outlook / Live.com

1. Open your mailbox and click 'ÄúOptions'ÄĚ (upper right hand corner).
2. Click the 'ÄúJunk E-Mail Protection'ÄĚ link.
3. Select the 'ÄúSafe List'ÄĚ link.
4. Copy and paste mary@christiangays.com into the dialog box titled 'ÄúType an address or domain'ÄĚ.
5. Copy and paste friends@christiangays.com into the dialog box titled 'ÄúType an address or domain'ÄĚ.
6. Click the 'ÄúAdd'ÄĚ button next to the dialog box.
If the email is in your "Junk E-Mail Folder", open the email and click the "Not Junk" button.
See a YouTube video here if you need more help.
Yahoo! Mail Users
See this YouTube video
You should also check that the mailing's email address is not in your Blocked Senders list. You can find your Blocked Senders list by following the directions above and going to "Blocked Senders List" instead of "Safe List". If you see the mailing's from address on this list, select it and click the Remove button.
Click here for find the instructions for other providers.
02. Why Is It Important To Complete My Profile?
There are THREE areas to fill in, the "Required Information", the "Additional Information (Optional)", and "I am on this website because (Optional)").  
You are only required to fill in the first section (Required Information), but I really encourage you to fill in all items in all three categories if you want others to find you when they do an ADVANCED MEMBER SEARCH.
One of the options in Advanced Member Search is to search by keyword, so if, for example you love movies, and someone is searching for members with "movies" in their profile, they will find you.
You complete your profile by logging in and going to "My Stuff" -> "Edit Profile"
03. How Do I Subscribe/Unsubscribe To The Forums
Login.
Go to My Stuff -> Subscribe / Unsubscribe Forums.
Tick off the forums you want to join. Un-tick the ones you don't want to join.
Click 'ÄúSave Changes'ÄĚ button at the bottom.
04. How Do I Put Pics In My Posts?
When you are in "Visual" Editor you will see the following icons.  Click on the icon to Insert Image. 

This will bring up a small blank box.  Wait for a moment and you will see this. 
You can now choose your image from an URL or click on the camera (blue box) to upload from your computer. 
You can add a description and dimensions or leave it blank. 
If the picture is too big you can later edit it by clicking on the pencil and changing one of the dimensions.  Just make sure to tick "Constrain proportions".
05. How Do I Change My Password?
Login
Go to My Stuff -> Change My Password
Enter your new password twice, and click to Save Changes.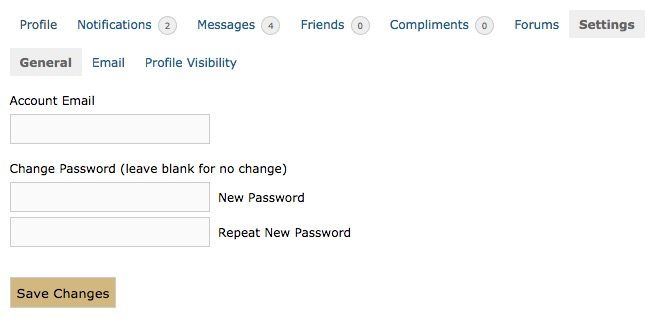 Click to Save Changes.
06. How Do I Send A Private Message To Someone?
Find the Member you want to Private Message by going to DATING -> Members

You will see something like this:

In the top right corner you can do a Search for the Member you wish to message by Username, or you can view the members list by "Last Active", "Newest Registered", or "Alphabetical",
OR
You can go to DATING -> "Member Search" page and search by Location, Sexual Identity, Age Range, Username or keyword.
Once you find the member you wish to "Private Message", click on their avatar or username link to be taken to their profile, which will look something like this.

From there you can send them a Private Message, a Compliment or ask them to be your Friend.
07. Arrrrhhhh! I'M GETTING TOO MUCH MAIL! Make it STOP!
You will be getting mail automatically from three sources.
 Newsletters
 List Serve
 Forums
Newsletters:
don't come out very often and only when there is something important happening.  I suggest that you don't unsubscribe from them if you are in the least bit interested in what's happening on the site.  
But if you do want to stop getting Newsletters, when you get one, go to the very bottom of the page and click on the link to "Unsubscribe Instantly".
List Serve:
At the bottom of every email from the List Serve will be a link to "Friends mailing list".  
Click on the link for List Serve Options & Unsubscribe.
In the very bottom box, enter your email address and click the button to "Unsubscribe or edit options".  
Tick the box that says "Yes, I really want to unsubscribe" and then click the "Unsubscribe" button.
OR
You may wish to go Daily Digest where you get one email a day with a summary of all emails from that day.
Forums:
Login.
Go to My Stuff -> My Forum Subscriptions.  
Un-tick the box to the left of each forum if you no longer want to receive mail from that forum.  
Click to Save your selections.
08. My Post In The Forum Has Funny Symbols Inserted
This happens when you copy and paste from the internet or another application like Word.
Invisible HTML characters get inserted.
To avoid this, use the Text (HTML) Editor instead of Visual Editor, or edit your post first in a Plain Text Editor like NotePad.

 
You can always go back in and "Edit" your post to delete the extra symbols as another option.
09. How Do I Invite My Friends To Join This Website?
We encourage you to invite your friends to join us and have tried to make it an easy process for you.
Go to My Stuff -> Invite My Friends.
This will bring up a box where you can enter your friends' email addresses, one per line.
The Subject and Email Boxes are filled in, but you can edit them to put your own text if you prefer.
Click "Send Invites".
10. Tell Me About "Compliments"
Compliments are an easy way of connecting with people, especially if you're a little shy and don't quite know what to say.
They could be the way of saying "I'd like to get to know you" or you might just want to let someone know that a post they wrote really was meaningful to you.
How Do I Use Compliments?
1. Do a search for the member you want to send the compliment to
     a) by using the "Basic Member Search"  or "Advanced Member Search" box in the left column
OR
     b) go to "Members" -> "List of Members".  Use the Search box top right corner of the page.
2.  Click on the link to bring up their profile.
3. Once you are in their profile you will see buttons to "Send Compliment" or "Private Message".
4. Click "Send Compliment" button.
5. The button will bring up different Compliment Types.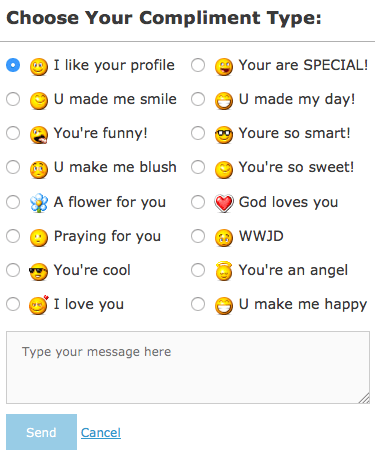 6. Select the radio button for the one that seems most appropriate.
7. Add a message in the box below, or not.
8. Click the "Send" button.
9. The member will receive a note telling them that someone has sent them a Compliment.
Note: If you would like to send a Compliment that isn't listed, send Mary an email and request that she add it.
11. How Do I Find People Near Me?
There is a Basic Member Search box on the left side of the page with Location as one of the options.  Enter the Location you want and click the Search Button.
If you want to be more specific you can do the Advanced Member Search and narrow your search down by province or state or even city.
If you want to narrow the search even more you can also select sexual identity and/or age range or even keyword. 
When searching you can use one, some, or all parameters.  Just remember that the more parameters you enter, the fewer the results you'll get.
When you see the list of people click on the name and view the profile.  If it looks interesting, send them a private message. 
Remember that some people are willing to relocate, so even if you are not willing to move, you might find someone who will come to you.
12. How Do I Cancel My Membership?
I hope you won't want to cancel your membership.  We really need all of our members.  If you haven't had any luck finding the person you seek, please don't lose heart.  They might join next week and you won't know if you leave us.
If you can't afford your membership with us we can convert it to a Complimentary Membership.
If you have another issue please write to Mary and let's talk about it.
But if you have decided that you really want to leave us there are two steps.
Login.  Go to My Stuff -> Cancel My Membership. 
This will take you to the cancellation page.
Step 1
Click the "Cancel My PayPal Subscription" button.

This will take you to PayPal where you can cancel your subscription.  This will stop any future payments from being taken.
Step 2
Go to My Stuff -> View Profile.
Click Settings.
Click the link that says Delete Account.

This will bring up a box that tells you this action cannot be undone.

Tick the box to agree that you understand the consequences and then click the "Delete Account" button.
At that point all of your profile information will be removed from our records, and your forum posts will be attributed to "anonymous".
13. Copying and Pasting From Other Sources
When copying and pasting material that is not your original creation please make sure to give credit to the author, and/or include the link so that others may investigate further if they wish.
You must either use the Text (HTML) Editor (tab at the top right of the input box) or you will need to edit first in a Plain Text Editor such as Notepad. If you do not edit in a Plain Text Editor you may see unwanted HTML characters in your post.
If this happens you can go back and Edit your post to remove them.
14. How Do I Single Space My Lines In Forums
The default for "Enter" is double space.
To single space your lines, at the end of the line hold down "Shift" and then hit "Enter".
15. Why Have I Been "Locked Out"?
Please do not take this notification personally.  It is merely our security software doing it's job.  If you enter the wrong username/password combination more than 20 times, you get this message.
What usually causes this is people either making a typo, or when they copy and paste, they accidentally pick up an extra space at the beginning or the end. 
They try it, and when it doesn't work, the browser enters the same information again, and the person just keeps clicking to try to make it work.
The solution, if you are not able to login on the first try, is to type the information again being very careful to make sure it's accurate.
If you can't get in after four or five tries, click on the "Lost Password" link and reset it. 
If that doesn't work, write to [email][/email] with your username and the password you want to use and I'll reset it for you.
16. How Do I Make Clickable Links In My Posts?
This question is addressed in the Blogs FAQ's.  Please go to Blog FAQ's #04
17. How Do I Add More Pictures To My Profile?
Go to DATING -> Edit Profile, either in the Login Box or DATING -> My Stuff -> Edit Profile
Select Media.
Note:  The Media option is found only on the DATING section of the website for uploading and for viewing the media of other members.

Select Options and Add an Album.  Give it a title and click "Create Album".

Select your files from your computer or just drag and drop them.
Your pictures will be automatically uploaded.  You can then select each one to Edit (add comments) or Delete.
18. How To Add An Event To The Calendar
If you know of something happening that might be of interest to others, please post it on our Calendar.
1. Go to My Stuff -> Add or Edit Event
2.  Enter the City, State & Title of the Event or the Name of the Artist.
3.  Enter the address.  A map will be created with directions.
4.  Include as many details as possible, upload a picture if you like.
5.  Enter the start and end days
6.  IMPORTANT:  Choose the Category or it will not show up on the calendar correctly.
7.  Click Publish.
8.  Check that it is on the Calendar and that everything is correct.  If it is not, please Edit.