Often, messages from mailing lists like Christian Gays get labelled as spam because of the number of emails that go out from our IP address, even though we comply with all of the CAN-SPAM Act rules. Learn how to whitelist us to prevent this from happening.
If your mail bounces, we are in jeopardy of being black-listed.  Rather than risk getting black-listed, we will remove all members whose mail bounces, so please add friends@nullchristiangays.com (our List Serve) and mary@nullchristiangays.com (everything else) to your Address Book / Contacts / White List / Safe Senders List before you register.
Whitelist Christian Gays - Here's How For Each Mail Provider

AOL
1.  Add mary@nullChristianGays.com and friends@nullchristiangays.com to your Address Book or Custom Sender List.
2.  Click the Spam Controls link on the lower right side of your inbox screen.
3.  When the Mail & Spam Controls box appears, click the Custom Sender list link.
4.  Choose the Allow email from mary@nullChristianGays.com option.
5.  Click Add.
6.  Choose the Allow email from friends@nullchristiangays.com option.
7.  Click Add.
8.  Click Save.



AOL Web Mail
If you are using AOL web mail, simply reply to an email from mary@nullChristianGays.com and friends@nullchristiangays.com and they will automatically add thus as a safe sender.
Gmail Users
1. Click Show search options downward-pointing triangle in GMail's main search field. 
2. Under From type christiangays.com
3. Follow the Create filter with this search link at the bottom of the search page.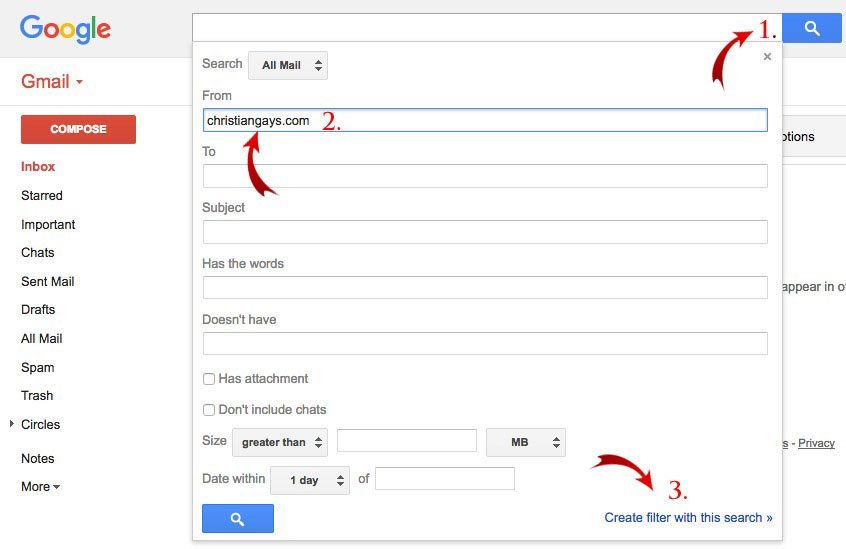 4. Make sure Never send it to Spam is checked.
5. Click Create filter.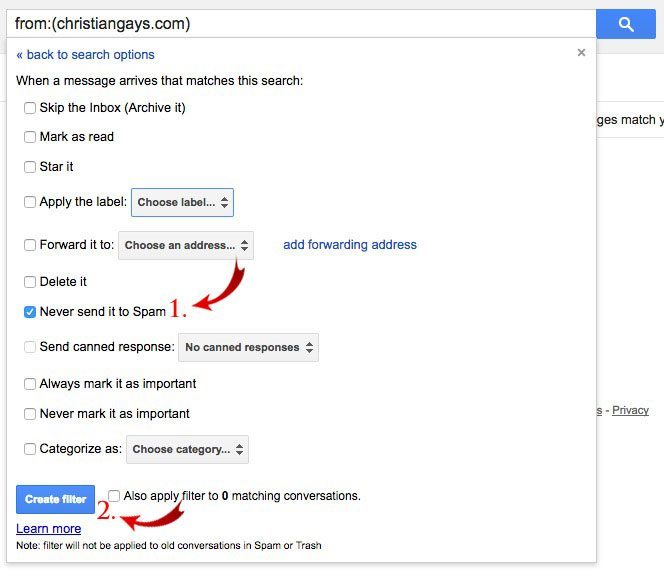 Hotmail / Outlook / Live.com



See this YouTube video
Yahoo! and Rogers Yahoo!  Mail Users
See this YouTube video
OR
Click on the Spam folder.
Select the email from christiangays.com.
Click Not Spam at the top of the page.
- The email will return to your Inbox.
In Rogers Yahoo Mail, your contacts list is your whitelist.  To add the From Address to your Yahoo Contacts:
Open your Yahoo mailbox.
Click the address book icon under the Yahoo! Mail logo.  When you roll your mouse over it, it will say Contacts.
Click "New Contact".
Fill in the fields of your Contact.
Click Save.
Apple Mail Users
 Open your Contacts book from the dock.
 File -> New Card
 Add Mary Pearson - mary@

null

ChristianGays.com
 Click Done
 File -> New Card
 Add Friends List Serve - friends@

null

christiangays.com
 Click Done
Go here for the following:
ISPs:Â  AOL, AOL Web Mail, Yahoo, Hotmail Live, Windows Live and MSN, Gmail, Earthlink, AT&T, Comcast
Email Clients:Â  Outlook 2003 (or higher), Mozilla Thunderbird, Blackberry
Spam Filters:  Norton AntiSpam, McAfee Spamkiller, Barracuda Networks, Trend Micro PC-Cillin, Cloudmark SpamNet, Mailblocks, MailShield, MailWasher, Oddpost, SpamAssassin, SpamFighter, ChoiceMail,SpamButcher, Spameater Pro, Spam Inspector, Spam Interceptor, SpamPal, Spam Sleuth, Other providers…