Do you have an event or recurring events that you'd like listed here?  Send the details to mary@ChristianGays.com
BOLDFest 2018!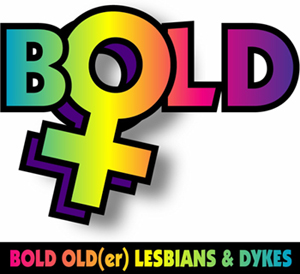 The 14th Annual BOLDFest!
Thursday Aug 30 through Sunday Eve Sept 2, 2018                    
Vancouver British Columbia, Canada
 A Conference & Gathering for/by bold, old(er) lesbians & dykes and younger friends and partners
4 nights of entertainment, dancing, cash bar, appetizers, women!
3 days of diverse workshops, discussions, outdoor activities,..  
Save Labour Day Weekend 2018!

Join us for one of the best weekends your lesbian/dyke heart could hope for.
WHERE?? 
Coast Coal Harbour Hotel 1180 W Hastings St, Vancouver, BC V6E 4R5
Happy to say, we're still with the "Coast Hotel Family"  as we move to our new home this year, at the beautifully-designed COAST COAL HARBOUR HOTEL located in downtown Vancouver, one block from the waterfront, Canada Place and Coal Harbour eateries, near to Stanley Park and knock-out mountain views . An ideal place for walks, trains, galleries, shopping,and much more. Not to be overlooked: all bathrooms have bidets! Not too shabby! It's the first hotel in Vancouver to have them!
 IMPORTANT: BOLDFest's special hotel room rates sold out last year by the deadline. Don't wait too long!  Click here to book hotel room. (see page 2 of registration form). 
Please note: by staying at the Coast,you're helping BOLDFest keep our conference fees down as low as possible. Thank you for supporting BOLDFest!  Do you want/need a roommate and share hotel costs? Contact info@boldfest.com. We'll put you in touch with others seeking same.
We look forward to welcoming back our wonderful tribe of BOLDFestees from across Canada and the US for the past 13 years -- and many new women as well!  Can't wait!! CLICK HERE to register 4 BOLDFest 2018.
Thank you ALL for supporting Lesbian Culture!