Please click on the link(s) to take you to the page(s) if you find something of interest.
---
NEW ARTICLE - Johnathan's Journey to Marriage
by Bridget Night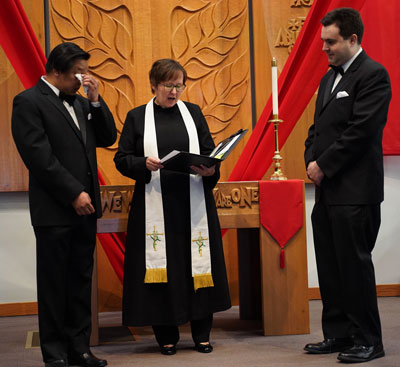 I am writing about our gay son, Johnathan's journey to marriage, to bring hope, faith, courage, and patience to others who are lonely and frustrated along the path.
Johnathan has Autism, specifically, Asperger's Syndrome. He is high-functioning and has his bachelor's degree. He has worked for Nintendo, Pokeman, and Microsoft for years as a video game tester. He loves Scrabble, chess, and math, and is very good at them, but his handicaps have given him many challenges.
He had stuttering problems as a child and seemed to be in his own little world. He was a sweet child but often did not fit in with the other kids. He has health issues, and social problems that made relationships very difficult.
He found people (both guys and girls) could be very cruel when trying to date, and would make fun of him. There were those who tried to help him, even though they did not feel compatible with him as dating partners.
As a mom I often worried about him. I worried when I found out he was gay, and even wrote a book, Prayers for Johnathan, in 2000.
I worried whether he could live on his own, finish college, and keep a job. I worried when he lost his faith in God, and became suicidal. I worried if he would catch some disease, get beaten up, or ever find a life partner.
As Christians, one of the first things the Bible tells us is that "it is not good for man to be alone".
---
I have tried to simplify a very complex subject in the following graphic which can be found on the website using the link above, however if you would like more detailed information, please visit the following links.
---
(*New - on Kickstarter)
---
A comprehensive guide to the world of online therapy apps (bottom of the page)


---

Great song!  Great video!
NEW BLOG by Brother Lawrence Damien


---
NEW TRANS VIDEOS - JAMIE TRANS TOPICS
---
NEW EX-GAY VIDEO
---

NEW IN "MEN SEEKING MEN" FORUM
New Jersey Guy Seeking  A Special Man
Looking For New Friends And Maybe Soulmate
Seeking My Christian Man Of God

If you want to be notified of new posts make sure to click the SUBSCRIBE button in the Forum.
---

WOMEN - I have created a Newsletter of Interest to Women.  My hope is that one day we will get Women's Chat going again and I'd like to be able to send an email just to the women, so if this interests you, would you please login and go to My Stuff -> Newsletters Subscribe/Unsubscribe - tick off "Of Interest to Women".
I may mention this in the next few Newsletters to give everyone a chance to be included.


---

Thank you again for all your support.  Our server costs $120/mo so we really do appreciate your financial help to cover the costs.  Of course we will always have Complimentary Memberships, and if you know of anyone who would like to join us, please ask them to write to mary@christiangays.com, using you as a reference, and I'll register them.
For those of you who have a Complimentary Membership, if you ever want to upgrade to a paid membership you can always go to My Stuff -> Membership Upgrade/Renew.  You can choose $2/mo, $5/mo, $25/6 mo, $50/yr or $100 Lifetime.  There is absolutely no benefit to you upgrading to a Paid Membership other than the knowledge that you are helping to support us, and we would be so grateful, but Free and Paid Memberships are identical.  Thank you for considering it.  ;-)

God bless,
Mary