Please click on the link(s) to take you to the page(s) if you find something of interest.
---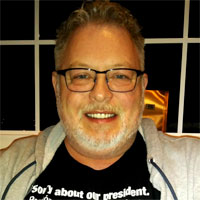 PRAYERS FOR KENN
 - We are blessed to have some new members.  Kenn (faith4faith) just joined us last week but has already made some nice connections in the chat room.  Last night he was in a car accident and has a broken hip.  He was in surgery this morning and will have a long recovery ahead of him.  Please remember him in your prayers.
---
Now I want to know about you.  Will you tell me about you?  Just a couple of lines if you like, but the more the better.  Then tell me if I can share your story with others, or if what you shared is just between us.
I started this website with the intention that it be a community, where people with similar interests can meet in a safe environment to share their everyday experiences, and to bond with others.  If you are subscribed to the Email List Serve, I hope you will share your story there, or if it is inspirational, perhaps you might let me share it in the 
Our Stories
 section on the RESOURCES part of the website.
If you are not subscribed to the Email List Serve, and don't know what it's about, you can read about it 
here
.  
ALSO, please let others know about you.  There are three sections in the Edit Profile.  Most of you have only completed the first "REQUIRED" section.  There are two more sections, "OPTIONAL" and "SEEKING FRIENDS OR DATING"

You must SAVE after you complete each section!


Once completed, go to My Stuff -> View My Profile to see what others will see.  Did you check your spelling?   Is there anything else that you've forgotten.   You can keep going back and editing until it looks exactly as you would like.  If you need help, let me know. 
Others are more likely to contact you if you have been willing to share about yourself.
---
Please consider sharing.
---
My cousin posted this on her Facebook page and I thought it was really interesting.
---
---
---
---
TRANS VIDEOS BY JAMIE - Trans Guy:
---
NEW PERSONAL AD - I believe that God will honor any relationship that seeks to serve Him. I find the silver lining in every cloud. I am people passionate to help others seek their life goals in their own reality & to love, accept, & forgive everyone as I am able. I seek a partner who is patient enough to teach me & loving enough to accept me.
NOTE:  If you receive an email notifying that someone has written to you on the website, please do NOT hit "reply" to the email.  This is a notification ONLY and if you reply to it, it just comes to me.
If you wish to reply to someone, you must login to the website and reply in the reply box.  The email will give you the link. 
Check the FAQ's if you're not sure.  If you still can't figure it out, write to me and I'll explain.
---

Thank you again my dear CG family for all your support.  You are so special to me!
God bless,
Mary